Home » Health Professionals » Latest Research
Latest Research
Spot on
Keeping up-to-date with the latest acne research just got a little easier!
Spot On features reviews, commentary and ideas on published acne studies that have caught the attention of the All About Acne team.
We know you're busy so we've kept it short and sweet and easy to read.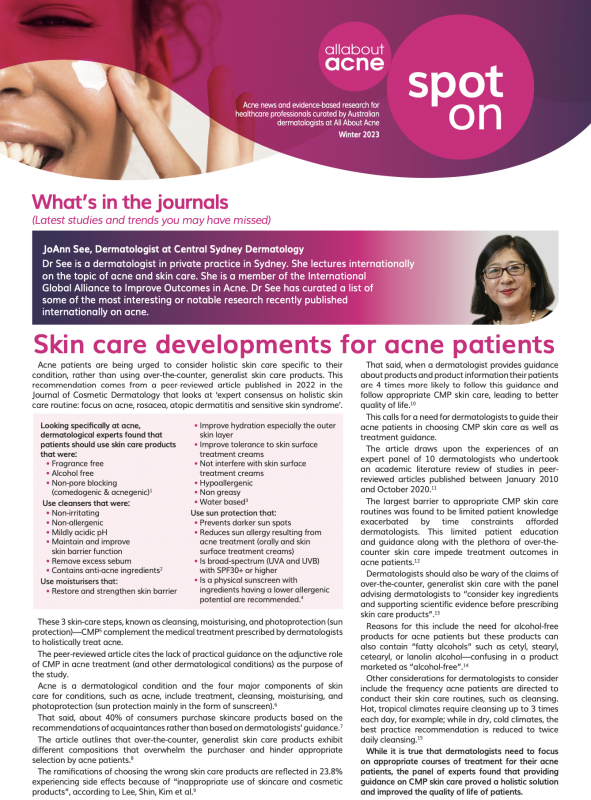 In this edition:
Skin care developments for acne patients.
The push towards more holistic and specialised treatments for patients with acne.
Skin yeast infections and how it can co-exist with acne, and how changing the treatment's course can affect the outcome.
Role of bacteria, Cutibacterium acnes, in acne breakouts.
Safety and effectiveness of laser treatments for acne patients.
Cooling systems used in laser treatments for acne patients.
In this edition:
Optimal laboratory monitoring for patients being treated with isotretinoin
Low vitamin D levels associated with more severe acne
Outcome of a review of methods to improve acne scars
How vehicle choice affects acne and rosacea treatment
Low-dose oral isotretinoin preferable to conventional dose for acne vulgaris
Non-prescription acne treatment for babies, children and teenagers
An assessment of the lived experience of people with facial and truncal acne
Acne and its impacts on body image, mental wellbeing, finances and more
The role of skincare in the management of acne
Acne highlights from the European Academy of Dermatology & Venereology conference
In this edition:
Guide to treating acne in people receiving masculinising hormone therapy
How dietary supplements provide promising complement acne treatment
Light and laser treatments are effective for the treatment of post-acne erythema
Acne biofilms interact with other microorganisms
Taskforce findings on female adult acne and androgen excess
Australian isotretinoin practice versus best available evidence and guidelines from the UK, Europe and USA
Why acne is a side affect of JAK inhibitors
'Interesting scenario' in isotretinoin use and higher lipids
Sponsored content in partnership with Galderma: What next? Let's explore acne maintenance therapy
In this edition:
How topical retinoid, trifarotene, could reverse acne pathogenesis
Using azelaic acid peel to inhibit sebum production in acne
Tea tree oil may boost the efficacy and safety of azelaic acid
First topical antiandrogen cream available in US
The role of lasers in treating acne scars
Topical clascoterone cream offers new treatment option – by Dr Lisa Byrom
More mental health support needed for children and teens
How topical retinoids can reduce pigmentation
Using herbal hydrogel to help accelerate wound healing
Red seaweed – a promising source of anti-acne compounds
Acne and rosacea in skin of colour
 Acnatac® (clindamycin 1% and tretinoin 0.025%): effective acne treatment with a low potential for skin irritation (sponsored content)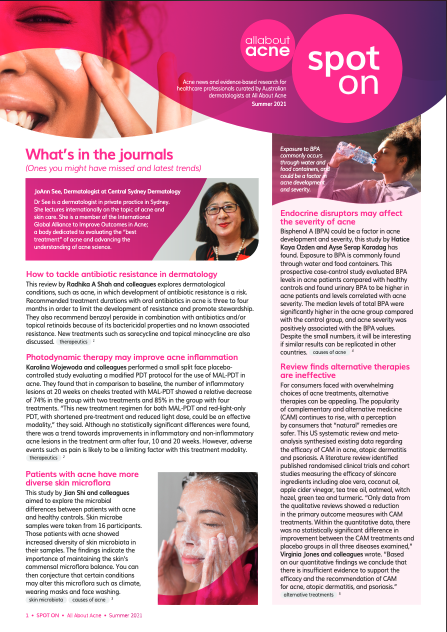 In this edition:
How to tackle antibiotic resistance in dermatology
Photodynamic therapy may improve acne inflammation
Patients with acne have more diverse skin microflora
Endocrine disruptors may affect the severity of acne
Review finds alternative therapies are ineffective
Managing acne in general practice
Factors affecting acne relapse after isotretinoin therapy
Lack of psoriasis training has implications for acne
Study examines evidence of isotretinoin side effects
The challenges of post-inflammatory hyperpigmentation
Study to evaluate spironolactone in women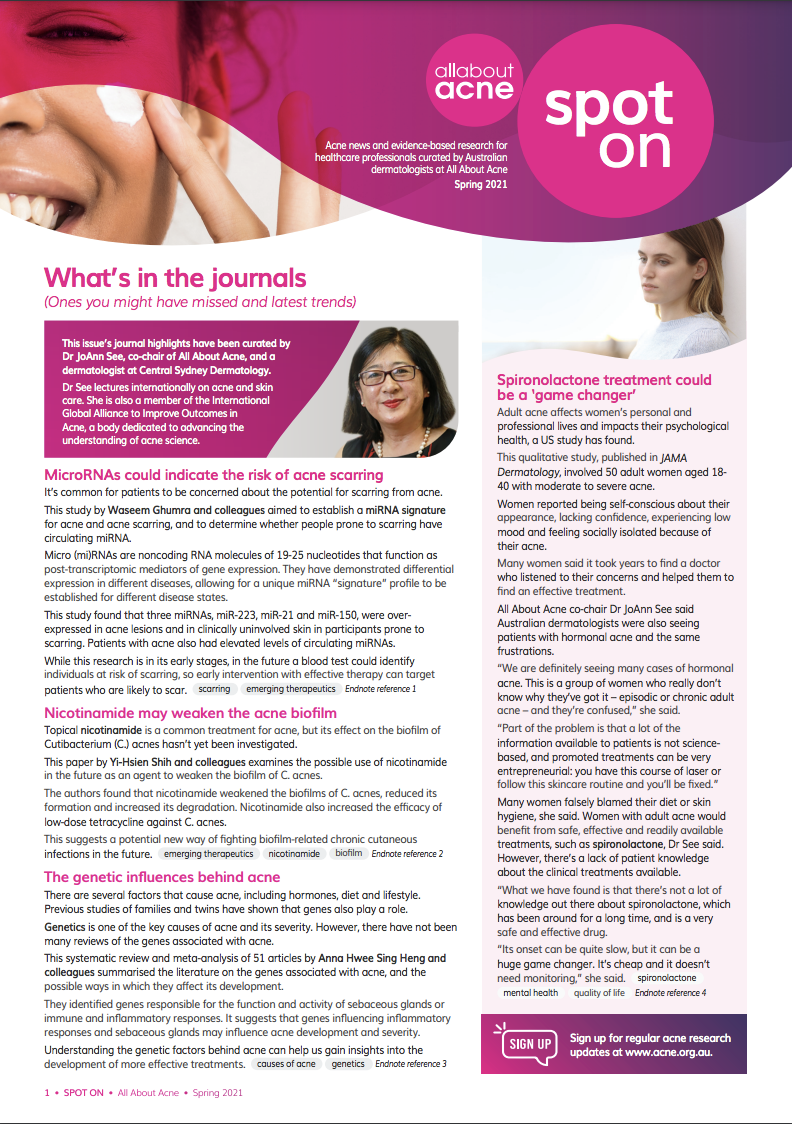 In this edition:
Spironolactone treatment could be a 'game changer'
MicroRNAs could indicate the risk of acne scarring
Nicotinamide may weaken the acne biofilm
The genetic influences behind acne
The psychological impacts of acne
Counselling for acne recommended in the UK
Acne on social media
Beliefs and perceptions of acne among adolescents
Pediatricians are less likely to prescribe  antibiotics or retinoids
Face masks worsen acne and rosacea
Could a new generation of textiles prevent 'maskne'
Managing acne in general practice: dermatologists answer questions from a recent GP forum
Psychological effects of isotrentinoin investigated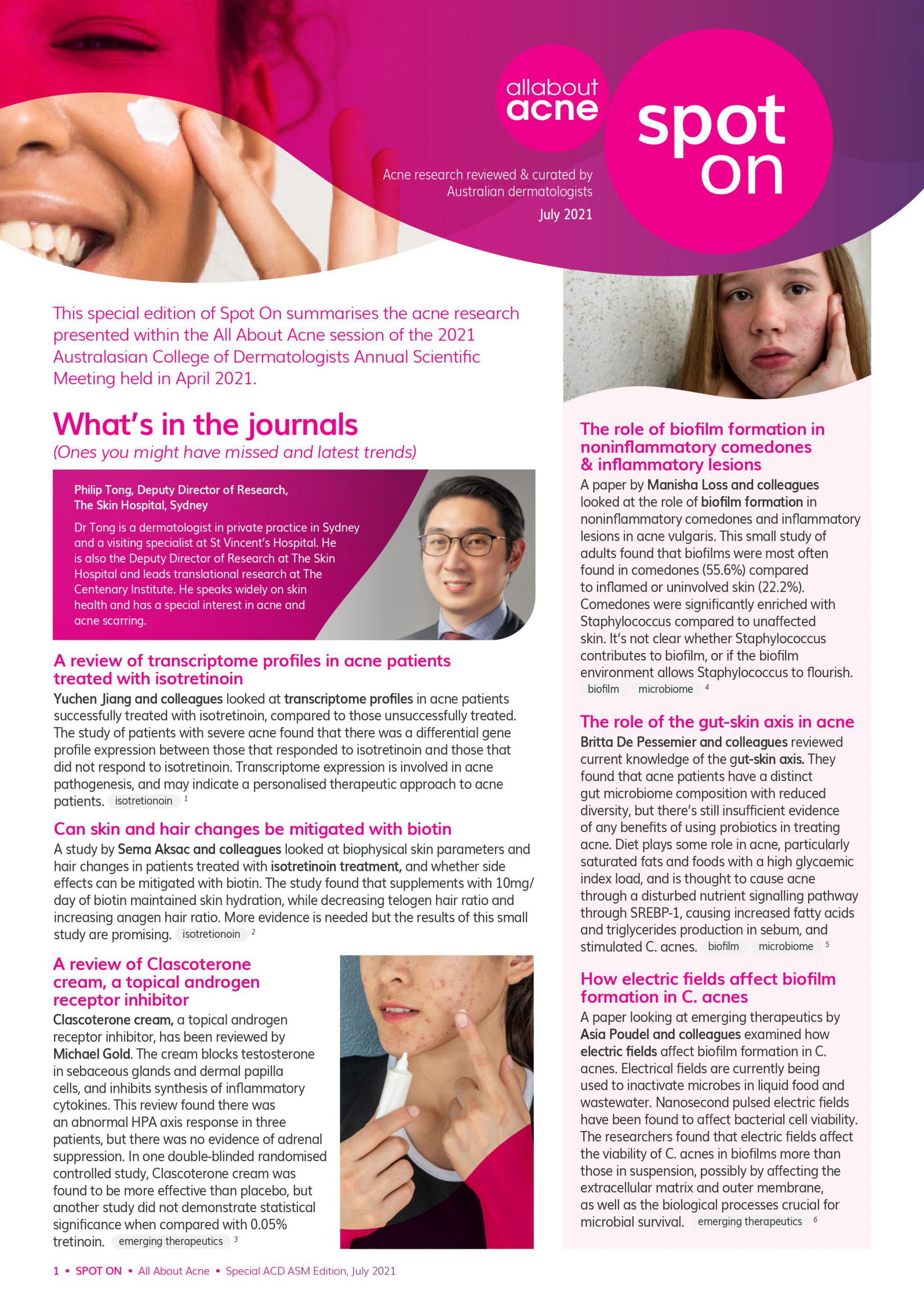 In this edition:
A review of transcriptome profiles in acne patients treated with isotretinoin
Can skin and hair changes be mitigated with biotin
A review of Clascoterone cream, a topical androgen receptor inhibitor
The role of biofilm formation in noninflammatory comedones & inflammatory lesions
The role of the gut-skin axis in acne
How electric fields affect biofilm formation in C. acnes
The financial costs of acne: Costs incurred by patients with acne before dermatological consultations
How to treat 'maskne'
How acne affects relationships and social media use: The impact of acne on interpersonal relationships and social media use
Patients trust dermatologists the most, but delay making that first appointment: Patient perspectives on acne management
Biofilms and the microbiome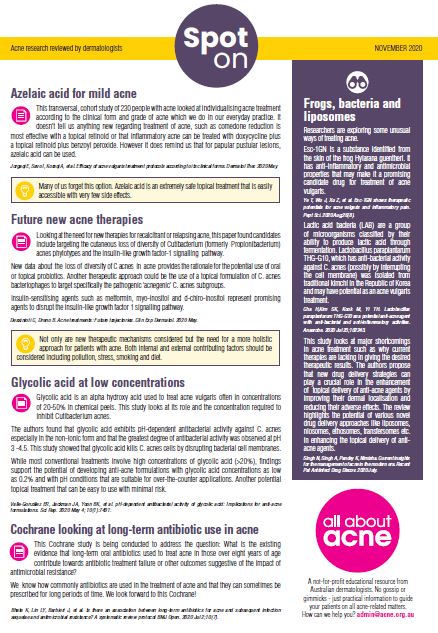 In this edition:
Azelaic acid for mild acne
Future acne therapies
Glycolic acid at new concentrations
Cochrane and long-term antibiotic use
Topical minocycline foam 4%
Linking diet with adult acne
Fish and probiotics
Review and meta-analysis of green tea
QoL and oral isotretinoin
Frogs, bacteria and liposomes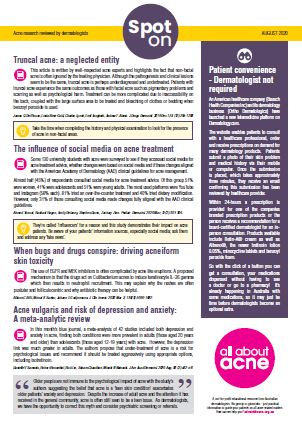 In this edition:
Truncal acne: a neglected entity
The influence of social media on acne treatment
When bugs and drugs conspire: driving acneiform skin toxicity
Acne vulgaris and risk of depression and anxiety: A meta-analytic review
Identifying the impacts of acne: A Delphi survey of patients and clinicians
Topical benzoyl peroxide for acne – the latest Cochrane review
Tazarotene 0.045% lotion for moderate to severe acne
Patient convenience – dermatologist not required
Our Healthcare Professionals section has a range of video interviews from local and international dermatologists and researchers.