Light therapies for acne may provide an alternative to medication
Light treatments may be an option for some people with acne and acne scarring. However, scientific studies are ongoing to further investigate this weapon in our arsenal against acne.
Dermatologist Dr Ritu Gupta says if you aren't keen to take acne medications such as antibiotics or isotretinoin, or if you're unable to take them due to pregnancy or other factors, light therapy may be something to discuss with your dermatologist.
"Increasingly, light therapies are being used to target the light-sensitive P.acnes bacteria," Dr Gupta says.
Not all light therapies are the same
"A range of light therapies such as red, yellow, green, blue, blue-red, infrared, broad-spectrum light, IPL, aminolevulinic acid-PDT, pulsed dye lasers, 1450-nm lasers or blue LEDs are used to treat patients with acne."
However, not all light therapies are the same. There are differences in the way they work and how effective they are for people with acne.
"One of the newer light therapies – Kleresca® – uses blue and flourescent light to stimulate the skin's natural repair mechanism. This is known as photobiomodulation and it has shown promising results for treating moderate to severe acne," says Dr Gupta.
"Kleresca is a light treatment for inflammatory acne (red lumpy, bumpy or cystic spots). It involves 12 treatments that can be done twice weekly over six weeks with a chromophore (light-sensitive) gel applied to the face and then a short period of light exposure," she explains.
Dr Gupta says patients report the treatment is comfortable and they typically start to see results by week four.
"Treating acne does take time, whether you're taking a medication or having light therapy. The good news is that you should see improvements along the way," she says.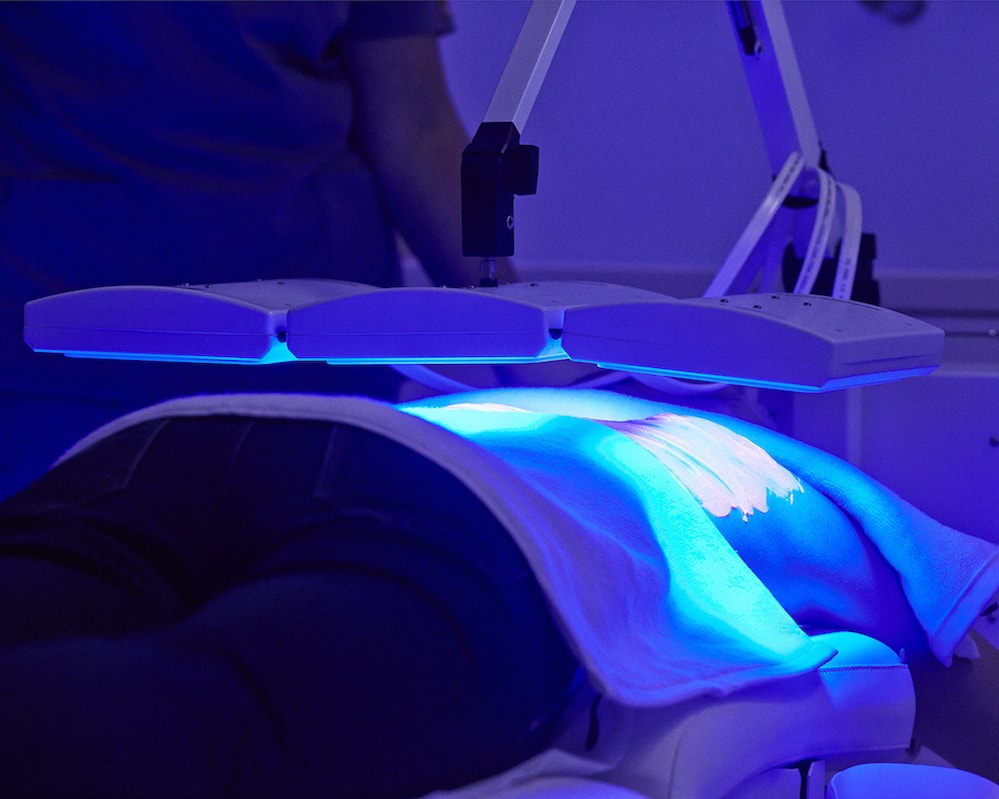 Questions to ask
"As with any medical treatment, if you're considering using a light therapy for acne, it's important to seek the advice of a dermatologist and see if the therapy is appropriate for you," says Dr Gupta.
"This is also an opportunity to discuss your expectations of the treatment."
Questions you may want to ask your dermatologist about light treatments include:
What's the treatment going to feel like? Will it be painful?
How flexible is the treatment regimen? What happens if I miss a session?
When can I expect to see results?
What's the cost?
"Light therapies to treat acne require both a time and financial commitment, so your dermatologist will discuss this with you. Don't be scared to ask questions. It's important you understand what's involved with any acne treatment before you start," says Dr Gupta.
"Remember that acne is a medical condition and while it is treatable, there is no real cure. Some maintenance treatment with skin care, prescription gels and creams or even booster light treatments may be recommended," she adds.